Big Bend National Park
April - July 2006
View Pictures
If you are not retired, you probably will not understand this........and maybe you won't understand it even if you are retired.<![if !vml]>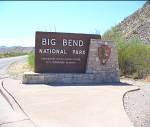 <![endif]>
I mean........I was living a pretty good life for a retired person. I don't own a half million dollar RV, and I don't spend most of my days at the country club......and I don't spend the day sitting on the veranda of my beach house waiting for my servants to bring me mixed drinks and cake.
I do keep busy......busy doing some interesting, and maybe even useful, activities. They tend to keep me out of trouble and they keep my mind active......well, sort of. I work on stained glass a couple days a week. I take several continuing education classes from the University of Kansas each session. I attend school board meetings and meetings of the Northeast Kansas Educational Service Cooperative. I keep my house and yard in reasonably good condition. I visit with my friends. I go to church on Sunday. I keep in touch with my former German exchange students. I read quite a lot. I spend a month or two in Germany each year. I go to books sales, craft sales.....everything except cattle sales. I even get to sleep as long as I want in the morning.
But it seemed like something was missing. Maybe it was "the grass is always greener on the other side of the fence" syndrome......but I began to get the feeling that I needed some excitement in my life......something new and different.
I really did not want to work full time again......been there and done that. I sort of wanted to live in Germany for a few months.....but finding an adequate place to live by myself was more difficult than I had ever thought it would be, so I crossed that off the list (at least for right now.) Living on the Oregon Coast would be great......but I can't afford it. And, of course, becoming the organist at the Mormon Tabernacle was also probably be out of the question.........along with being a member of Willie Nelson's band.
Back in the summer of 1989, I worked in Yellowstone National Park for two and a half months. My dog, Moses, had died a few months earlier, and I had nothing to keep me at home that summer. I applied to Hamilton Stores, who operated most of the stores in Yellowstone at the time, and they offered me a job. After the initial excitement wore off, it became "just a job", but we only worked seven hours a day, five days a week, so there was plenty of time to go hiking and to explore not only the favorite attractions of the park, but also the "hidden Yellowstone".
It turned out to be a neat experience. I met several people who would become life-long friends......although some of them have since died. We went hiking together and exploring together. We played golf together; we went out to eat together. We sat in the dorm recreation room and drank together and watched videos......about the only form of night time entertainment we could find. The hardest part of leaving Yellowstone was leaving my friends and acquaintances.
So......why not do something like this again? It was great the first time. Maybe it would be even better the second time. So I looked on the Internet at a site called coolworks, a site that specializes in advertising jobs in national and state parks and other recreation oriented businesses. The skills that I have to offer are rather limited. I certainly could not be a cook.....one of the major needs in these sort of places......and I did not want to be a waiter. And I would be useless as a maintenance person.....what I know about plumbing and electricity can be written on the back of a postage stamp. And I did not look forward to sweeping floors all summer or cleaning public rest rooms.
About the only "skill" that I have which is "sellable" to a national or state park is that of a retail clerk......working in some sort of store. That is what I did in Yellowstone National Park......and I did it quite well......and that is the kind of job I decided to apply for. I found several park around the nation......mostly west of the Mississippi River.....that <![if !vml]>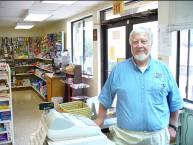 <![endif]>needed retail clerks to work in gift shops or convenience stores. I actually filled out several on-line applications......some of them quite complicated for a job that barely pays minimum wage.
When all was said and done, I received job offers from three of the places where I applied: Yellowstone National Park, YMCA of the Rockies, and Big Bend National Park. Two of the major requirement that I decided must be met before I would accept a job were that Internet service must be readily available and there must be cell phone service in the area. I immediately crossed Yellowstone off my list.........it apparently had neither.
That left YMCA of the Rockies and Big Bend National Park left to choose from. I looked at the web sites for each of them. For some reason I was intrigued by the fact that Big Bend is one of the largest of our national parks......yet one of the least visited. I was also drawn to the park because it was located in the desert........and I had never lived on the desert. But the deciding factor no doubt fell into place when I was promised my own little mobile home.........that I would not have to live in a dorm or share a mobile home with three other people.
While I was working in Yellowstone, I lived in a dorm which was attached to the back part of the little store where I worked. The room was dark, cold and uncomfortable. And it was also constructed so that sounds carried throughout the entire building .........almost like it was designed that way......and maybe it was. But, the bottom line was......it was noisy. And, even if I thought my little dorm was noisy, it was nothing when compared to the "big dorm" which housed the employees of the "big store" across the parking lot. Young college-age kids who worked in the kitchen and soda fountain area lived on the top floor, while the older, mostly retired people lived on the lower floor. There was constant friction between the two groups. The college kids were usually fond of drinking and staying up late at night "partying"........while the older people wanted to get to bed early and sleep.
Well, at any rate, I had decided that I was not going to live in any sort of situation where I would have to contend with similar problem. So when the Human Resources Manager offered me a trailer........although it was very small.....I decided to accept the offer to work in Big Bend National Park.
All those people who thought I was getting senile and feeble minded were convinced of it when I told them that I was going to work in Big Bend National Park for six months. "Why are you going down there where it's so hot. Where there are rattlesnakes, and where scorpions live in your shoes? You know you don't like hot weather." But......nothing ventured, nothing gained. I decided to go give it a try.
What about Big Bend National Park? The pictures on these pages will give you an idea of what the park looks like from "ground level". I am not much into hiking these days......getting too old for that kind of stuff. But I traveled most of the roads that are driveable in a little red Hyundai........and maybe a few that weren't. As you will notice, most of Big Bend National Park is desert. Maybe not desert according to the classic definition........but certainly arid enough for a Kansas boy to consider it desert.
Most of the vegetation is either cactus or scrubby, low-growing bushes and shrubs. Only where there was an old ranch which had a well are there real, leafy trees. And they are far and few between. I tried to take pictures of many of the desert plants.....or enough of them to give a good representation of what grows there. And you will notice that where there are trees......there is usually an old windmill, which means there is a source of water.
<![if !vml]>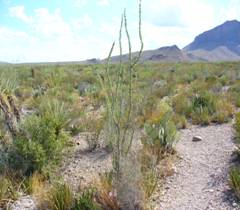 <![endif]>As you drive toward Big Bend National Park, especially down US 385 from Marathon, you may wonder, "Where is the park?" I certainly did. There are miles and miles of flat desert.....and very few signs of life or civilization. It is only after I arrived at the park headquarters at Panther Junction that there was an indication of anything worthy of being called a national park. But as I turned right at the junction and headed west, I began to see the mountains in the distance......although at this point I was still on the outside looking in, so to speak.
Three miles down the road, I turned south and headed toward the Chisos Mountains Lodge......probably the main tourist area of the park and where I worked. This six mile drive truly borders on the spectacular. The road ascends upward to an altitude of more than 6000 feet at the trail head of the Lost Mines Trail........and then it sharply descends down into the Basin......at an elevation of 5400 feet. The drive is a sensuous combination of jagged mountains and a variety of desert vegetation. It certainly is not Pikes Peak or Mt. Evans......but it has its own bold, appealing charm......enough so that I never got tired of driving it twice a day for three months.
Along the way it was not unusual to encounter a few javelinas, rooting around for food. Or some little miniature deer.....doing the same thing. Early in the morning, or perhaps later in the evening, I had to be careful for skunks......of which there is an abundance throughout the park. A real nuisance to drivers are the long-eared jack rabbits.....morning, noon, or night. And the road-runners! Somehow they usually manage to escape death by out-"running" the cars......or if they have to, by flying. And, of course, there is also a variety of other "wildlife".....such as lizards, chipmunks, squirrels, and snakes. Always, as I drove along, I kept my eyes alert for either a black bear or a mountain lion......the two "star" animals of the park. But I was never lucky enough.....or unlucky enough......to see one.
The other "spectacular" drive is somewhat longer. It starts about ten miles west of the Chisos Mountains Lodge corner and continues south for more than twenty miles down toward Santa Elena Canyon on the Rio Grande River.
There are lots of picture-taking opportunities on this drive. My first stop was the old Sam Nail Ranch, a relic from earlier last century, all but gone except for the outlines of some old out-buildings, and, of course, the windmill. A few miles on down the road is another abandoned ranch.....the Homer Wilson Ranch. The remains of the ranch house are still there, but little else. Both of these old ranches make good hikes for old people like me.....and they are a reminder that this territory was once settled and occupied by ranchers.
<![if !vml]>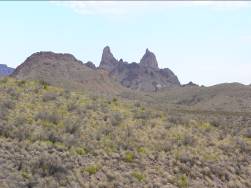 <![endif]>Other sights along the way include the Burro Mesa Pouroff and the Tuff Canyon Overlook, which gives a good view of a miniature "Grand Canyon". Even more spectacular is the Sotol Vista where you can look out over the vast expanse of the park toward the Rio Grande River. And Mule Ears Peaks, which can be seen for miles as you drive along........but best viewed at the Mule Ears Overlook. And, of course, along the way are several pull-overs with interesting exhibits and geological information.
After twenty-two or twenty-three miles, the forlorn, desolate outpost called Castolon appears. And I choose the words "forlorn" and "desolate" intentionally. This lonely collection of buildings is a former army post, dating from back in the days of the Mexican War. Some of the buildings are still standing today. One of them has been converted into a store occupying half the building and a Visitors Center of the National Park Service occupying the other half. Maybe the only contrast is that the National Park Service has the good sense to close their operations down during the blistering hot summer months.........while the store remains open all year around.
On Fridays I went down to Castolon to work in the store so the regular person could have the day off. My way of describing these occasions was to say, "I spend a month down in Castolon today!" During the summer months only a very few of the hardiest.....and most curious.....or perhaps the most stupid......people venture down this way. It is by far one of the hottest places in the park......regularly reaching temperatures of as much as 105 degrees or 106 degrees or 107 degrees.
Most of the Fridays that I spent down there were sort of never-ending days of sitting and waiting for somebody to venture into the store. I took my laptop with me. It was a perfect chance to get some work done; to play some games; to listen to some music; to catch up on mail. I mean.....it's not like anybody was going to disturb me! Probably the <![if !vml]>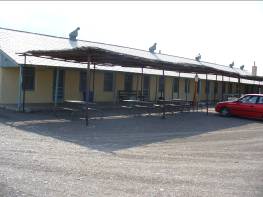 <![endif]>most attractive feature of Castolon......for the tourists, at least......was the restrooms! I would see a car drive in and think, "Wow. A customer."........only to see them drive past the store and stop at the rest rooms........and then drive off again.
Beyond Castolon about eight miles or so is Santa Elena Canyon, on the Rio Grande River which forms the border between the U.S.A. and Mexico. This is the destination of most people heading down so far off the beaten path. And, most people who see the canyon, and walk through it, usually think it was worth the drive. As for myself, the morning drive down to Castolon and the late afternoon drive back to the Chisos Mountains Lodge made up for at least part of the boredom for all the time spent in between.........a very small part, I might add.
<![if !vml]>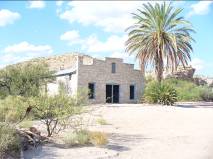 <![endif]>Driving east from Panther Junction, there are a few noteworthy sights......to me, at least. There is another old abandoned ranch........Dugout Wells......a few miles down the road. Aside from the windmill and a few picnic tables and lots of towering cottonwood trees, there is a rather interesting trail which meanders through the desert with frequent stops to point out and explain various desert plants and desert features. It is an interesting way to gain some additional knowledge about the surrounding landscape.
Further on to the east, and a few miles off the main road, is Hot Springs. At one time this was a commercial operation.....a spa of sorts. A few of the buildings remain, although they are abandoned and vacant, of course, as well as the hot springs down along the Rio Grande. The dirt road leading back to the springs is another spectacular drive......and somewhat harrowing, too.
The other main attraction along this road is Boquillias Canyon. I didn't actually go here, but I have been told by most tourists that it is worth a visit. You must park your vehicle several hundred feet from the actual canyon and walk. I have also been told that there is always a constant danger that unattended vehicles could be broken into........and precaution should be taken. And, also expect to encounter Mexicans from across the river peddling their wares to American tourists......a strictly illegal activity.
Here again, there are several roadside stops along the way with interesting information and exhibits for those who are willing to take the time to stop and look at them. At the end of this road is Rio Grande Village. Along with a campground, a service station, a laundry, and a convenience store, perhaps the most important things about this area is the fact that it has the only public showers in Big Bend National Park! (And one of the questions asked most frequently by the campground tourists is, "Where are the nearest showers?" At the Basin Store, where I worked, the answer is, "About thirty miles down the road at Rio Grande Village.")
There is less to see up north of Panther Junction toward the park entrance. However, there is the Pioneer Lady's Grave.....a rather sad and lonely place. There is a fossil <![if !vml]>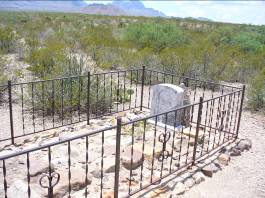 <![endif]>exhibit, which is somewhat interesting.....if you are interested in fossils. However, the place I found to be the most interesting was the Dagger Flats Auto Trail. I am not really sure how far it goes.........I turned around and headed back after about ten or twelve miles........but it was rather fascinating to drive on the narrow, one lane road out through the desert......out through the dagger plants. The day I was there......and I suspect this is true on most days........I drove for several miles without ever meeting or seeing another human being. After a while, I got to thinking, "Man, what would happen if something would happen? Nobody would find me until after the buzzards had picked my bones clean!" So I turned around and drove back to the main road.
On the road going west from Panther Junction......just past the Chisos Mountains Lodge corner......are a couple other interesting drives........and hikes, if you are so inclined. One of them is the Grapevine Hills Road and the other is the Croton Spring Road. But both of these also fall into the same category as the Dagger Flats Road. I drove for miles.....and hiked for who knows how far........and never saw or met another human being. So I really don't know how far or to what sort of natural wonders they led. But, at least I can say I was there.
For the average, run-of-the mill tourist, I suspect that Big Bend National Park consists mostly of its four main paved roads: (1) the road running north from Marathon into the park and on down to Panther Junction, where the park headquarters is located; (2) the east-west road extending from Rio Grande Village to the west park entrance, running toward Turlingua and Study Butte; (3) the six mile segment of road leading up to the Chisos Mountains Lodge; and (4) the longer stretch of road which takes you down to Castolon and the Santa Elena Canyon.
The other roads that I have mentioned are desert roads which are unpaved, and in many cases, not very well maintained. But, with careful and attentive driving they are driveable........even in a little red Hyundai. There are other roads that are suitable for only high-clearance vehicles and/or four-wheel-drive vehicles. Obviously, I didn't drive on any of these roads........although many people with suitable vehicles do. It is always a good idea to check with the Park Service before undertaking any long excursion on one of these roads, however.
Taking the time to travel these less-traveled roads is usually a worthwhile adventure. It gives you an entirely different perspective of the park......a chance to see different landscapes and different forms of nature. In this section I have included several pictures that I took in some of these remote locations. They might give you an idea of what to expect if you should ever decide to explore them. Before undertaking any sort of trip off the beaten path, it almost mandatory that you take a good supply of water with you. You can become dehydrated very quickly in the unrelenting desert sun. Another very useful item to take is a loud whistle......a referee's whistle. If you should happen to meet any sort of distress or misfortune, this is one of the best (and maybe one of the only) ways to let people know you need help......and to guide them to you. And, of course, there are the other obvious things like sun block, a wide brim hat, a walking stick, good shoes, etc......
It is probably safe to say that the main attraction of Big Bend National Park.....at least for most people......is the unlimited possibilities for hiking. I have heard it said that Big Bend is a "hiking park". As I have already said, there are some spectacular sights in the park, but in reality, you can see the "park" in a day......or two days, at the most. Maybe the people who come to hike are the lucky ones.....the ones who really get to "See" the park. There are literally dozens of trails leading to different parts of the park, and many of them begin at a trailhead behind the Basin Store. Some of the less daring take the shorter trails; some people go back packing and hike and camp for several days. But no matter which ones you talk to, they all come back enthusiastically proclaiming the beauty and majesty of the mountains and the awesome scenery. And most of them come back worn out and in need of a shower.
For me, one of the true surprises came when I first saw the Rio Grande River. On the map, it looks imposing, important......like a real river. But in reality (and I only saw it during the dry season), it is only a large stream......or a creek at best. The Delaware River, which flows past my home in Kansas, is a "real" river, compared to the Rio <![if !vml]>
<![endif]>Grande. In many of the places where I saw the river, it looked like it was possible to simply walk across it. The water level was very low. But I have heard and read stories about the Rio Grande raging out of control during periods of heavy rainfall. Fortunately (or unfortunately, depending on how you look at it), there was never a heavy rainfall in Big Bend National Park during the thirteen weeks I spent there.
Let me tell you just a bit about the places where I worked during my rather short tenure in the park.
Chisos Mountains Lodge is the main tourist area of Big Bend National Park. In this area, you will find a motel and some cabins, the only restaurant in the park, a gift shop, a Visitors Center, which is, of course, operated by the National Park Service and is open year-round, the offices of Big Bend Resorts, my employer, and the Basin Store.....the convenience store where I worked most of the time.
The Basin Store is one of those one-stop-shopping stores. I didn't actually count them, but somebody told me that the store carries around 1500 different items: food, camping supplies, healthy and beauty supplies, shirts and hats, souvenirs, postcards, gift items......and of course, ice, water, soft drinks, and beer. If you forgot to bring something with you, chances are there is an eighty percent chance you can find it in this little store.
And, believe me when I say, "This is the only show in town!" The next nearest store is in Turlingua, about thirty miles away. They MIGHT have what you are looking for. Marathon is seventy miles away......but you are more than likely wasting your time to <![if !vml]>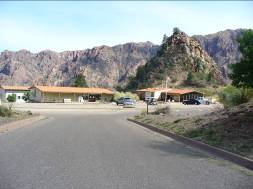 <![endif]>drive up there. Or you can drive up to Alpine.....one hundred three miles away, or to Presidio.....ninety miles (but a slower trip) away. So, all things considered, it probably best to simply buy the stuff at the Basin Store. It may be somewhat more expensive, but you have to remember that you are a hundred miles from nowhere. I have had people say to me, "I'm not going to pay that much money for that!" What do you say to them? I mean......"Well, you can drive 103 miles to Alpine to buy it, if you want to!"
But on the other hand, I have had lots of people tell me that things didn't cost as much as they expected......given the extreme isolation of the park. And I have also had many people tell me that our store was much better stocked than any of the little desert stores on the outside of the park. Most people appreciate the fact that transporting the goods into the center of the park is not cheap. In addition to the normal Texas sales tax, which is somewhere around 8.5%, there is also a utility surcharge of 2.5% which the park service has authorized to help maintain the necessary utilities in this remote region.
Without a doubt my favorite part of working in Big Bend National Park.....and by far the most satisfying part.... was dealing with and meeting the customers. The vast majority of them were pleasant, congenial people. Many of them took the time to ask about the job, the store.....and how and why I was working there. They understood immediately that it was not my "career".....but merely an opportunity for me to indulge in an interesting experience.... or diversion.... in my retirement. I was constantly amazed how many school teachers and former teachers and retired teachers came as tourists........or how many of them had children who were teachers......or relatives who were teachers.
<![if !vml]>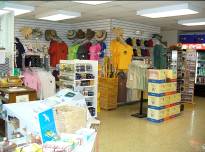 <![endif]>
One of my favorite moments occurred one morning when a man came into the store and asked, "Do you happen to know who owns the little red car parked out there with the K. U. stickers on it" I told him it was mine.
"Oh,", he said, "I am from Kansas, too."
"Where are you from?" I asked.
"It's a little town that you have probably never heard of," he replied.
"What's the name of it?" I asked.
"Meriden," he answered.
"Wow! I live in Valley Falls and I drive through Meriden several times a week," I told him. "What do you do in Meriden?"
"I am an elementary school principal down in Topeka," he said.
Small world! We talked for a few minutes about "old times" before he had to leave to meet his family. But it was moments like this that really made my day.
In April (of 2006) when I agreed to work in Big Bend National Park, I had planned on working there for six months. I was actually pretty excited about going down there, even though most people that I know thought I was crazy. I looked upon it as an opportunity to expand my horizons a bit. Before taking the job, I realized that I was not going to make a lot of money......but that didn't matter. I didn't need the job.....nor did I need the money. And it was this fact that probably set me apart from almost all of the other people working there. And it was the fact that probably contributed greatly to my decision to stay for only three months, instead of six months like I had originally planned.
I went to Big Bend National Park intending to have fun......to relax......to make some new (hopefully) life-long friends like I did the summer I worked in Yellowstone National Park. There was no doubt in my mind that I could also contribute something to the company I would be working for, too. But, mostly I suppose I was looking for an expense-paid, working vacation.
It didn't take very long after I arrived to figure out that my plan was nothing but a fantasy....and a fantasy of the worst kind. The summer I worked in Yellowstone National Park, as I said earlier, was a happy time. I worked hard.....but I also enjoyed myself immensely. I was able to associate with other educated people......other retired professional people who were also looking for a little bit of adventure......people who would work during the summer months when the park was open, and then return to their home and pursue their lives for the remainder of the year.
Of course, Yellowstone is strictly a "seasonal" park......so the people who worked there were seasonal employees. Big Bend National Park is different. It is open year round.....three hundred sixty five days a year. So many of the people who work there are year-round, permanent employees. This was their job.....their ONLY job. It was the way they earn their living. It was not a way to supplement their income. It was not a way to "get away for a while". It was not a way to have fun. It was not a way to meet interesting people. It was not a paid vacation. It was, however, a job they desperately needed. For the most part, they were not in a position to simply pack up and go home if they became unsatisfied........like I could.
And even the "seasonal" employees come and go at almost any time of the year, since the park is a year-round operation. Many of them seem to be "park drifters".....drifting from one park to the next throughout the year. North during the summer.....south during the winter......carrying what seems to be their earthly possessions in a suitcase of two.
My immediate impression.....formed within a day or two of my arrival......was, "Most of these people are very unhappy people......and this is a very unhappy place to work." And, unfortunately, nothing happened during the time I worked there to change my initial opinion. I knew almost instinctively that I would not stay there for six months......although I worked hard.....worked overtime.....to change my opinion. I wanted rather desperately to "like" the place. I suppose another of my fantasies was that I would incorporate this into my "retirement lifestyle".........spend six months each year working in Big Bend National Park......spend two or three months living in Berlin......and spend the rest of the time at home, especially the Thanksgiving and Christmas holidays.
I think that a lot of the my unhappiness......and the general unhappiness that seemed to be pervasive throughout the entire park...... was due to poor management. Let me quote from an entry I made in the journal I kept while I was working in Big Bend. It comes from the last entry I made in the journal:
<![if !vml]>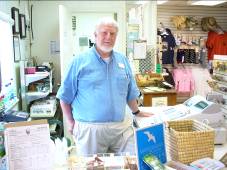 <![endif]>
MONDAY 24 JULY 2006
This will undoubtedly be the last entry that I will make in this "journal". My last day of work is this Thursday, July 27......and I will be heading out for home early on the morning of Friday, July 28........my birthday. What a great birthday gift that will be!
Under different circumstances, I can actually see myself liking this place. The little mobile home that I live in is somewhat miserable......but I had some plans that were going to make it more livable and comfortable. The hours are pretty long during the summer months......but they would become shorter when we became busier this fall. The TV and the satellite are messed up......but that could be fixed.
But it is too late now. I am simply tired of the place. Tired of the hassle. Tired of the unhappiness. Tired of the poor management. Tired of the uncertainty.
There is new "management", of course, but it is far too early to tell how that is going to work out......whether they will try to change things to make them better for the employees or whether it will remain the same or become even worse. For the sake of those who are staying here, I hope it gets better. I think the key to successful management of this place is simply......less management. Give the store managers, the restaurant managers, the front desk managers, the housekeeping managers, and the maintenance managers the power and authority to run their own domains.........and then stay out of their way.
Much of the conflict and many of the problems under the previous management has been that of micro-management and second guessing. A lot of it has been caused by the lack or absence of a definite chain of command........of management by-passing the various managers or ignoring the managers........and of employees by-passing their managers or ignoring their managers. It just doesn't work for top management to deal directly with the individual employees. And it doesn't work for employees to deal directly with the top management instead of going through their immediate supervisor. The result is a serious breakdown in communication........and also a breakdown in morale.
Now that I am back home again......back to my normal retired life..... I still believe what I wrote the Monday before I left Texas to come home. I still wish everything had worked out differently. And, I am still glad that I had the opportunity to work in Big Bend National Park for thirteen weeks. I certainly did not hate it......but I didn't like it well enough to stay, either. It was not fun. It was interesting.....but it was not fun. There was no joy in the job.
However, any time a person gets to live in a new environment; gets to meet new people; gets to learn a different job; gets to solve a different set of problems; gets to meet new challenges; get to make a contribution in some small way........and can maintain a sense of humor; and can maintain a sense of detachment; and can realize and understand and even shrug off most of the hardships and annoyances..........Well, that person has to have <![if !vml]>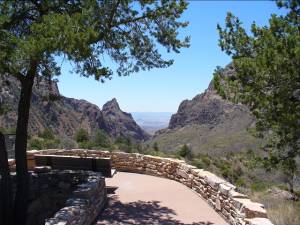 <![endif]>gained some benefit from the experience........that person must have "grown" in some way......that person must have gained a better understanding of himself.....and a greater understanding of others. I guess that is why I am glad I went down there......and stayed for as long as I did.
Now........enjoy the pictures!
<![if !vml]>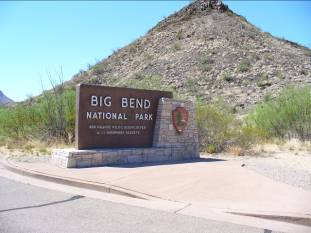 <![endif]>
View Pictures